This section represents a three-year preparatory cycle for entry to the French University in Armenia and in particular for the preparation of its newly created Faculty of Computer Science and Applied Mathematics.
Diploma :
The curriculum of the Blaise Pascal section provides education in line with Armenian programmes. At the end of the cycle, students will therefore be able to present the "certificate" like all other Armenian high school students.
Calendar, timetables :
The Blaise Pascal section organizes its calendar and timetable according to the general model of the French School. Thus, holidays are scheduled every seven weeks of work and the courses end at the end of June.
Working day lasts 6 hours. Weekend is free.
Conditions and timetable for admissions :
Registration formalities are online from March onwards.
The entrance tests are organised in mid-July:
A written test in mathematics

An oral interview in Armenian in the presence of a jury of three teachers and a member of the administration of the French School.
No prior knowledge of French required at the time of registration.
Schedules :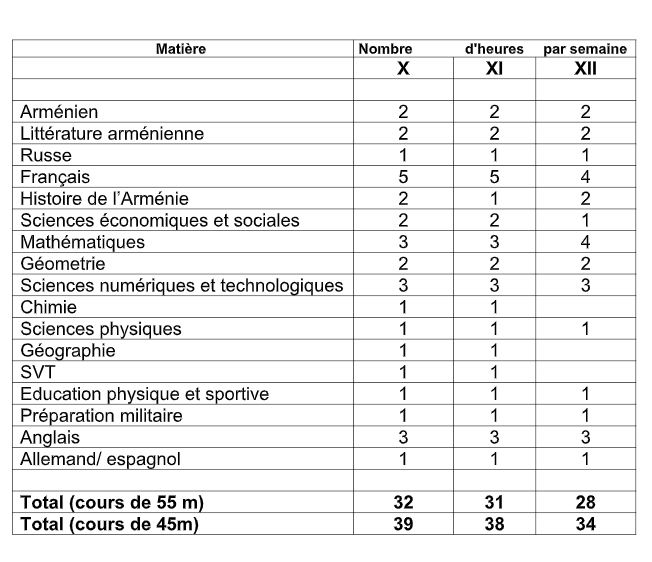 The classes :
| | |
| --- | --- |
| Tenth class (2nd) | 15 years old |
| Eleventh class (1ère) | 16 years old |
| Twelfth class (Terminale) | 17 years old |

The environment :
A permanent link with France and the French High school in Armenia

An institutional link through the partnership with UFAR

Privileged access to admission to UFAR through rigorous and demanding preparation

An education that allows each student to develop their talents and achieve their personal and professional goals

A permanent control of student attendance through precise internal rules and compliance with a code of ethics based on the French model. A follow-up of students through virtual digital classes

Reduced class size (maximum 20 students)

Cultural activities around the French language